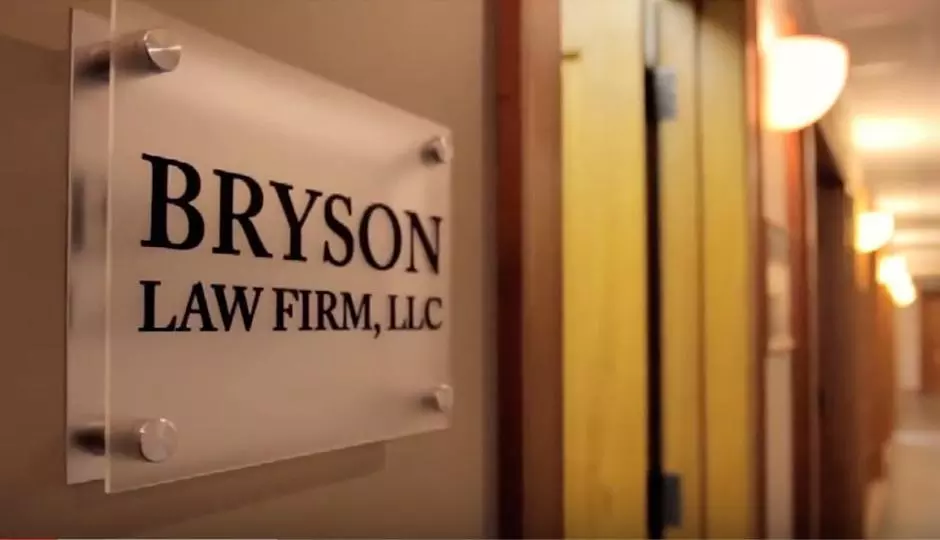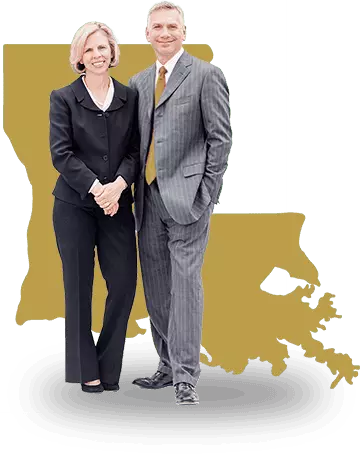 At Bryson Law Firm, L.L.C., we pride ourselves in being Louisiana and Texas attorneys who serve our friends and neighbors in our great states. We're lifelong residents of these states, because when you live in a beautiful, unique locale like ours, why would you ever leave?
Our roots give us deep insight into the needs of our fellow "Loosianans" and Texans. With over 40 years of combined legal experience, you can rest assured that we know tax laws. We are committed to representing our clients of all walks of life to find the best solution to their tax problems.
There's a reason why the Better Business Bureau gives Bryson Law Firm, L.L.C. an A+ rating. We put our clients first. From your Initial Consultation, we'll hear your story and uncover all aspects of your tax dilemma.
Unfortunately, many of our clients come to us only after they've used one of those national tax resolution firms advertised on TV or elsewhere. Many of these fly-by-night outfits aren't even licensed to practice law in Louisiana. They are literally like the out-of-town salesmen – here today, gone tomorrow. They'll just take a person's money and never do anything for them. We guarantee that will never happen at Bryson Law Firm, L.L.C..
The Bryson Philosophy
The three words that best describe our values is faith, family, and taxes. These three words represent the cornerstone of our beliefs. They embody how we live our lives and how we conduct our business.
Faith
Our faith has been an integral part of our lives since we were children, and we've instilled that same sense of commitment in our family. We are devoted members of the Cathedral of St. John the Evangelist in Lafayette where Cary has served as Trustee.
Our goal in life is to leave this world a better place than we found it. That means raising our children in a Christ-centered environment and practicing the Golden Rule. We also believe in giving back to our community through the many religious and civic organizations we support. As lawyers, we are blessed with the ability to provide pro-bono legal services for disadvantaged families to help them better their lives.
Family
With six children, you can be sure that we're big on family. Whether it's our kids, our employees, or our clients, we treat everyone like they're part of our family. It can be challenging to balance our personal life with our work schedule, but the hard work is worth it. We don't have the lifestyle of some high-powered attorneys like you see on TV. We're just down-to-earth folks who would rather spend an evening sitting around the dinner table, talking with our kids, and enjoying a plate full of crawfish. If you'd like to see what the 'Bryson Bunch' has to say about their mom and dad, check them out here:
Emily
Joe
Kathryn
Luke
Mary Frances
Sarah
Bryson Law Firm, L.L.C. represents our extended family. We work with some of the best and brightest minds in tax law in Louisiana. In fact, we'd put their knowledge up against tax attorneys in any state. But it's not just about law at our firm. Our employees share the same ideals of fairness, justice, and commitment that we believe.
We have another word for clients at our firm: family. We treat our clients as we would our own relatives. We get to know our clients personally and give them the attention they need and deserve during difficult times. We are just a phone call away should they have any concerns.
Taxes
Just like tithing sustains the church, we believe taxes are an essential part of living in a free society. We all have an obligation to pay our taxes to provide a quality education for all, to keep our streets safe, and to deliver many other vital services.
However, there are times when you may find yourself behind on taxes through no fault of your own. Disaster may strike. Business may slow down. Fraud may occur. It doesn't matter to the IRS. They just want your taxes. But it matters to us.
The IRS can be relentless in their pursuit of taxes you may or may not owe. We believe the government has an obligation to demonstrate fairness in their collection of taxes. We're not afraid to fight for your rights as a taxpayer to be treated fairly and given the opportunity to state your case. Bryson Law Firm, L.L.C. will represent you with your best interests at heart. We'll make sure you are not alone in your struggle.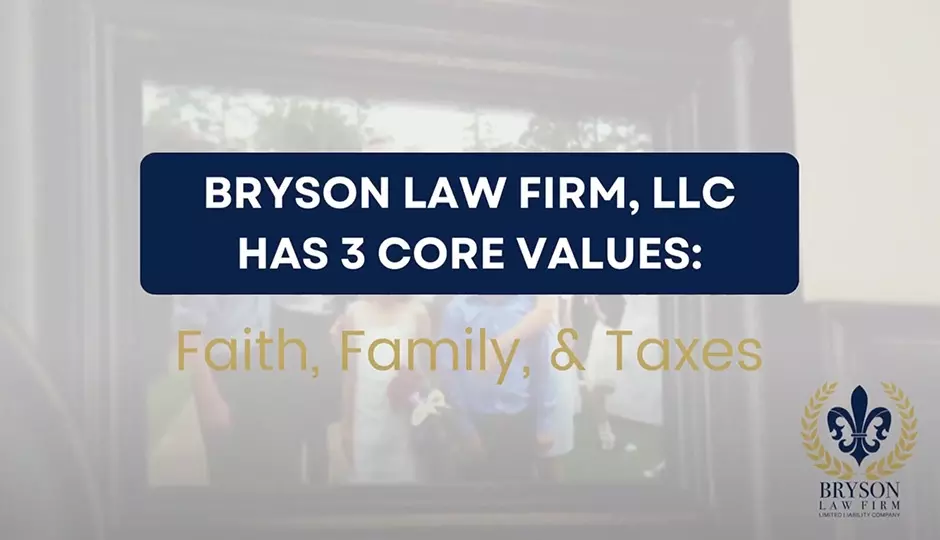 Take the First Step
Whether you're just beginning the tax resolution process, or feel like you're ready to give up, Bryson Law Firm, L.L.C. is here to help. Feel free to fill out our online form for your free confidential consultation, or contact us at one of our six convenient locations.